Elevate The Home Bar Collection From Elemental To Incredible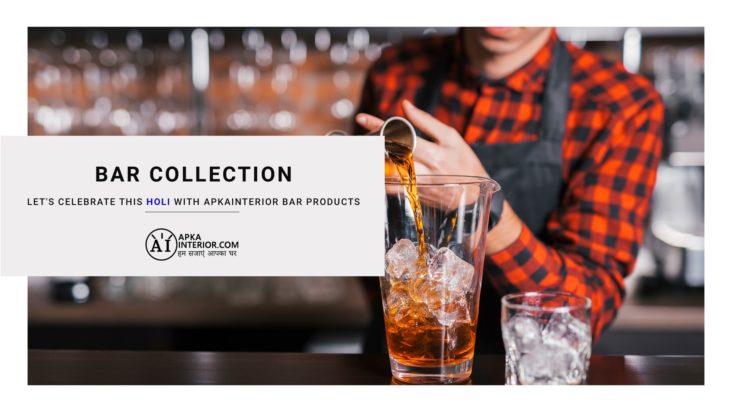 A home bar is more than just a place to keep your booze and beverages; it is also a place to organize and prepare cocktails in the most enjoyable way possible. Home bar must have a nice collection in the corner of the kitchen with a few rows of appealing bottles, a good collection of glassware, and some magnificent mixing utensils, but this still gives off a bland impression, doesn't it? Apkainterior.com is pleased to offer a significant discount on our recently released bar collection in order to make your Holi celebrations more memorable.
Apkainterior.com has unveiled some incredible collections. It's time to step up and differentiate yourself from the crowd.
Celebrating with family and wanting to add to the collection without it appearing to be an "extra" item is not a tough undertaking. We do, however, have some options. Consider adding our must-have bar spoon to create the impression of a skilled mixologist. Our traditional corkscrew wine opener is also a versatile opener for a small bar, since it contains a corkscrew opener, a bottle opener, and a foil cutter. It is necessary to elaborate on difficulties encountered while utilising a Boston shaker. This cocktail strainer has a spring that is tight enough to keep all of the shards out of the drink.
Home bars and gatherings are more than just measuring and mixing. A professional appearance makes any capacity a more delightful and memorable experience. Introduce your barware with our 3-tiered salt and sugar rimmer, which keeps the components separated and in place. On every occasion, this device is the drink's best buddy. When experimenting with more intricate recipes, our gorgeous, high-quality hardwood lacquered muddler is a must-have barware. Its exceptional thickness allows it to shatter fruits, ice cubes, and other items. There's also no need to be concerned if the mixture leaks. While making or pouring a pint, this bar runner protects the surfaces. Its soft rubber nubs hold all of the bar utensils in position and upright, allowing air to quickly and efficiently dry them.
Is there anything more exciting than shaking and frothing? Our new stainless steel barware line will help you upgrade your bar supplies. Add our unique cocktail shaker to the collection to make cocktails more fascinating and enjoyable for family and friends. It is a high-quality, scratch-resistant stainless steel shaker with anti-rust qualities that will last for years. Replace your clunky ice buckets with side handles that are difficult to use. Our premium ice bucket is your saviour. With a top handle, the bucket balances one's additional effort to manage anything and everything with ease. Our stainless steel wine goblets are the talk of the party and are ideal for any indoor or outdoor celebration with an attractive finish. Again, they are the best alternatives to glassware, which may be difficult to manage at times, especially when youngsters are around. Peg measurers have long been an intriguing method to begin preparing a drink. With this stainless steel peg measurer, one will obtain the right measurement every time without breaking a sweat.
Since the host has completed mixing and partying, but the bar supplies are still missing something that was overlooked while arranging, consider our attractively and ergonomically designed bar cabinet and glass holder, which keeps you organised in a short amount of area. This cabinet has everything a home bar host needs to showcase their bar supplies. Consider including our other masterwork, which provides a more traditional delight. This extremely big wooden bar cabinet allows you to store anything and everything you need to keep a bar supply in one location very efficiently.
Whether you want to make a frothy-topped drink for yourself, a loved one, family, or friends, Apkainterior.com offers everything that will fit your taste and meet your goals and cravings for a top-notch experience.